Japanese firms support education and community links
Look at any region of the UK and you will find Japanese firms' headquarters and manufacturing facilities, mergers and acquisitions, R&D projects carried out jointly with British firms and many academic links. All these are contributing to unprecedented growth in both the British economy and employment figures.
According to UK Trade & Investment's Inward Investment Report 2013/14, Japan is the UK's key investment partner in Asia, having delivered 116 projects across the country in 2013–14 and created 3,040 new jobs. Moreover, half the cars manufactured in the UK in 2014 are by Japanese makers.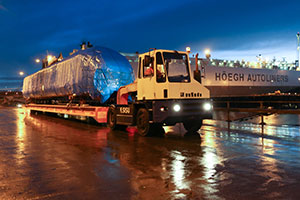 Recent case studies
The same may well be true of trains soon. Hitachi, Ltd. recently set up their global headquarters of Hitachi Rail in London, and production at their factory in Newton Aycliffe, County Durham—the firm's European rail manufacturing base—is due to start in 2016.
In the field of M&A, in 2014, Suntory formed Lucozade Ribena Suntory when it acquired two popular British brands. Advertising giant Dentsu Inc. continues its buying spree in the UK after having acquired, in 2013, the Aegis Group PLC, , in one of the industry's biggest acquisitions ever.
Snack manufacturer Calbee, Inc. recently made its first European investment in Flintshire, Wales, and has just unveiled their first product to be manufactured at the factory.
Some of this activity may have been prompted by Prime Minister Shinzo Abe's growth strategy and an economic need for Japanese firms to globalise, moving out of a relatively uncompetitive domestic market.
However, there is no doubt that the strategic positioning of the UK, its openness to inward investment, the strength of its workforce and leading expertise were also key considerations when making these decisions.
The benefits of this inward investment are not solely economic; there are also social, cultural and educational ones. Living in the East Midlands myself and working with Japanese firms across the country, I have seen links develop at a grass roots level that have had regenerative effects on local communities.
To continue to read the full article, which was published in the British Chamber of Commerce and Industry's Acumen Magazine, June 2015, go here.
Read more